About Pickering Euro Service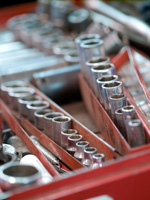 Mitch Hurst first started repairing Volvos at Hans Euro Mobile in 1974 at the corner of Scarborough Golf Club Road and Kingston Road.
In 1978 Hans suddenly passed away, opening the door for a new owner, Frank Othmann who renamed the company Golfway Motors Ltd. and Volvo was still the main vehicle repaired.
In August of 1985 , Phil Bishop joined Golfway Motors Ltd.
On March 1 1993, Frank Othmann retired and Mitch and Phil created Golfway Motors Euro Service, continuing to specialize in Volvos.
On January 1 1999, Mitch and Phil moved to our current location and renamed the company Pickering Euro Service.
In the latter half of 2009, we are continuing to grow, adding Dwaine Thomas to our company.
Since moving out to Pickering, we have invested in new equipment to keep us up to date, diagnosing and servicing the latest Volvos as well as continuing to service the older models.